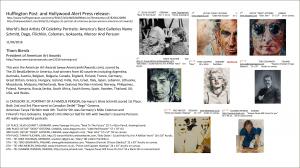 World's Best Artists Of Celebrity Portraits: America's Best Galleries Name Schmitt, Dego, Filichkin, Coleman, Isokaanta, Mercer And Persson

11/03/2016

This year the American Art Awards (www.AmericanArtAwards.com), scored by The 25 Best Galleries In America, had winners from 40 countries including Argentina, Australia, Austria, Belgium, Bulgaria, Canada, England, Finland, France, Germany, Great Britain, Greece, Hungary, Iceland, India, Iran, Israel, Italy, Japan, Lebanon, Lithuania, Macedonia, Malaysia, Netherlands, New Zealand, Northern Ireland, Norway, Philippines, Poland, Romania, Russia, Serbia, South Africa, South Korea, Spain, Sweden, Thailand, UK, USA, and Wales.

In CATEGORY 31, PORTRAIT OF A FAMOUS PERSON, Germany's Silvia Schmitt scored 1st Place. Both 2nd and 3rd Place went to Canadian Detlef "Dego" Gotzens. American Tanya Filichkin took 4th. Tied for 5th was Germany's Mike Coleman and Finland's Tero Isokaanta. England's Kris Mercer tied for 6th...